April 2015 Demonstration
Our demonstrator for April was Eva Cincotta. She presented a demonstration of a cityscape in Acrylic along with a lesson on perspective.
The meeting was held in the Guild Hall, First Congregational Church (middle side door), Sanborn Street, Reading, Wednesday April 8th, 2015 at 7:30 p.m.
We have some photographs of the event in case you could not make it there in person. You can click on any of the images on this page to view a larger version of it. Then, use the Back button on your browser to return to this page.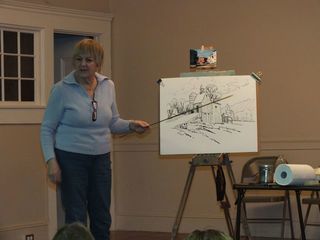 Before starting the demonstrations, Eva discussed perspective.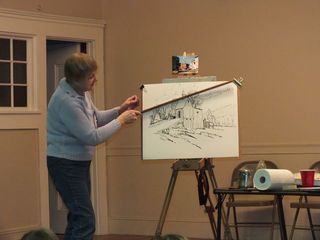 Here she is indicating where the vanishing point is.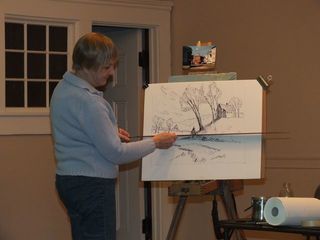 The horizon line is always at eye level. So the location of the
horizon line in the painting shows where the viewer is located.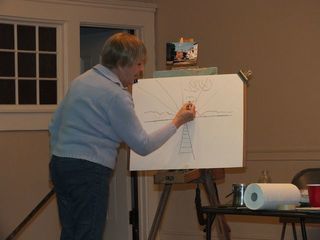 Even the clouds must be drawn in proper perspective.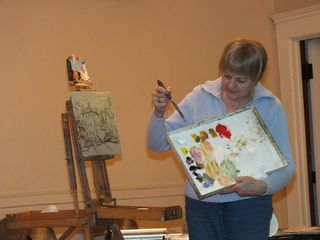 Eva showed us her palette of colors.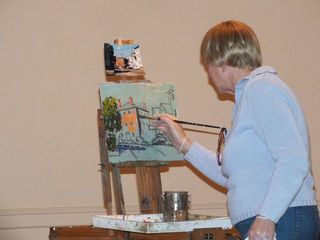 Eva always paints on a toned panel.
She started the painting with the mid tones on the building.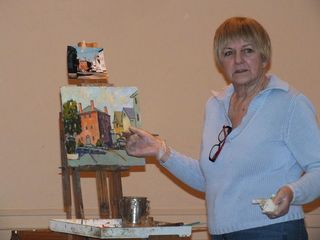 Next, she put in the colors on the dark side of the building.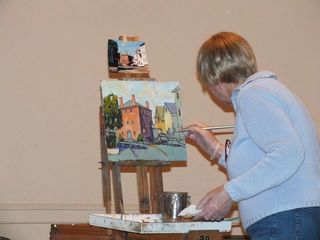 The sun is shining on the fronts of the buildings on the left
so they are painted in warm, high key colors like yellow.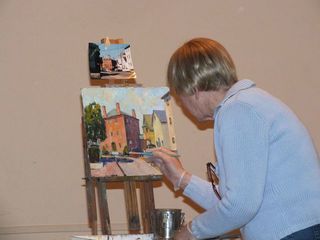 Finally, the details go in.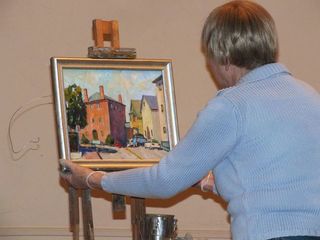 Let's see what this looks like in a frame.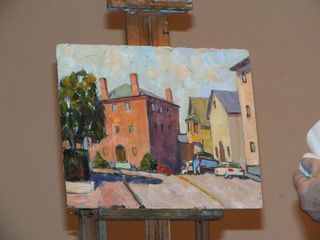 Here is the finished painting, without the frame.
Eva has demonstrated with RAA before, in May, 2002, April, 2004 and February, 2006.
Eva Cincotta's Bio
Eva Cincotta is a native of Malden and resides in Melrose, Massachusetts. She is a graduate of the School of the Museum of Fine Arts, and Tufts University. Eva is a full time artist and teacher, besides demonstrations and workshops, she has taught at several local colleges and exhibits in regional galleries. She is member of The North Shore, Rockport Art Associations, and the Malden Sketch Group. You can see some of her work at her web site, http://evacincotta.com/
---
Mission Statement
About Us
Our Program
Membership
Schedule
General Information
Archives
---
Home
Search
Acknowledgements and Links
Add Sidebar Menu
---
This web site and all of its content, text and images are Copyright © 2000 - Reading Art Association
All rights reserved.
Last updated October 30, 2016