December 2009 Demonstration
Our demonstrator for December was Tom Gill, who presented an Acrylic Landscape. Tom has demonstrated with us before. If you want to see some photos of that demonstration, click on dec2003demo.shtml
The meeting was held in the Guild Hall, First Congregational Church (middle side door), Sanborn Street, Reading, Wednesday December 9th, 2009 at 7:30 p.m.
We have some photographs of the event in case you could not make it there in person. You can click on any of the images on this page to view a larger version of it. Then, use the Back button on your browser to return to this page.
Tom uses a simple pallette of just the basic primary colors, which he buys in bulk. He uses old brushes of many different sizes. He also explained to us how he prepares the canvas for his paintings,
"I take off the plastic", he said.
When painting, he does not clean the brush very often, instead letting the colors move from one to the next as he paints.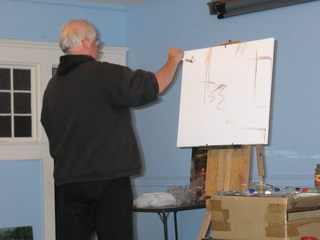 Tom began by sketching in the drawing with the paintbrush.
He does a very simple drawing just to locate large masses.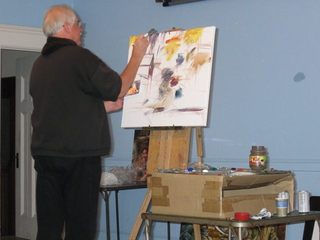 Here he has blocked in more of the colors.
You can see a building on the left side of the canvas.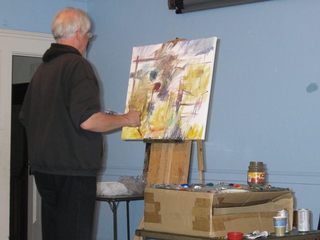 Tom is noted for working on his paintings upside down.
Here he has the canvas upside down for blocking in large areas.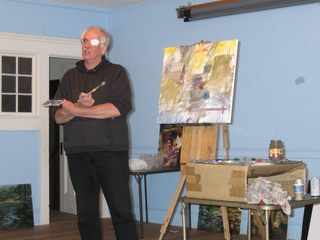 The painting looks very abstract in the initial stages.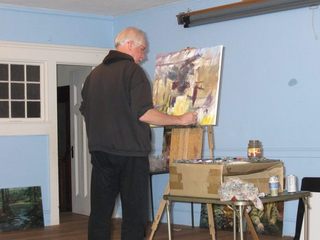 He turned it upside down a second time to work on it.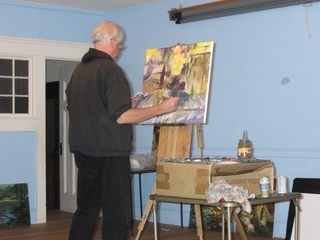 In this photo you can see the image starting to take shape.
You can definitely see buildings at this stage.
At the end he adds the highlights in the windows.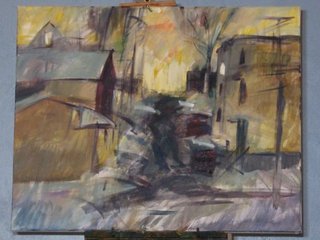 Here is the finished demo, although
he said it is not a finished painting.
Tom Gill's Bio
Tom has been painting since he was 10 years old. Born in Lowell and raised in Chelmsford, he started his professional career in 1982 after flirting with a rock musician career and after taking his fine art education at the Art Institute of Boston. Tom developed his own style, using acrylic paint mostly on canvas to express his emotions, using brush strokes that are full of energy. The result is always loose and impressive with harmonious colors that interplay with light. He teaches this style through entertaining demonstrations at art associations throughout New England. Tom's painting style is inspired by John Singer Sargent, Norman Rockwell, Richard Schmid, and many others. He describes his style as impressionistic realism. He likes to work fast and paints figures in their own environments. He finishes his paintings spontaneously with what he calls "slap, dashes and dots." He holds Professional Memberships in the North Shore Art Association, Rockport Art Association, Whistler House Museum of Art, Chelmsford Art Society, Concord Art Association, and the Revolving Museum in Lowell.
---
Mission Statement
About Us
Our Program
Membership
Schedule
General Information
Archives
---
Home
Search
Acknowledgements and Links
Add Sidebar Menu
---
This web site and all of its content, text and images are Copyright © 2000 - Reading Art Association
All rights reserved.
Last updated October 30, 2016